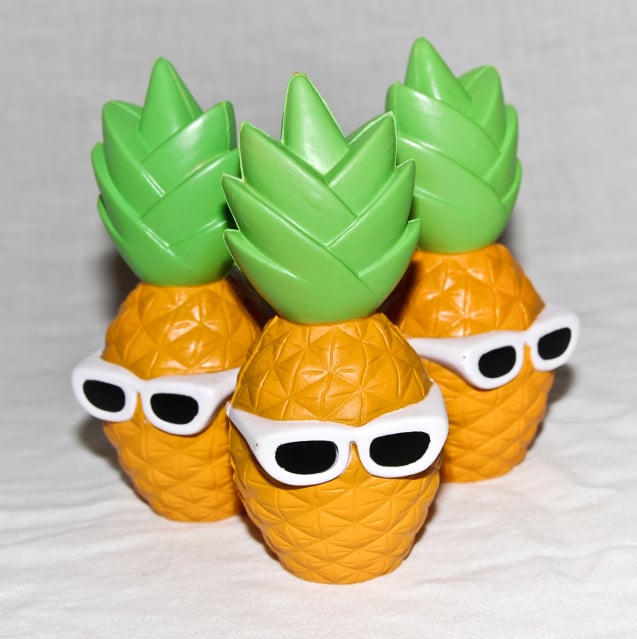 Nothing stocks a stuffing like a squishy pineapple wearing sunglasses! These custom made squishy pineapples look just like Petri but don't make quite a fuss when you drop them. They are made with a unique high quality foam that is dense and will last for years. Here's just a few things they are good for:
- Squeezing when you're stressed or excited
- Throwing when you're angry
- Exercising with when you're bored
- Talking to when you're lonely
- Taking pictures of when a you're feeling adventerous
- Buying while you're here
...and many more!
And here's what some fan's would do with their squishy Petri (submitted on the Peterpot fanpage):
- Make movies with or of him
- Make a life size squishy Petri and have it as a couch buddy
- To test the effects of a newly designed parachute by tossing it off the Burj tower in Dubai
- I would eat chicken wings with him
- Play catch with it
- I would watch the office with him
- Play halo with it
- Put a "swatch" on him and ask what time it is
- Sleeping with him
- Read a book
- Go down a water slide
- I would channel surf with him
- Posing in the middle of a pile of real pineapples
- Sitting in front of a huuuuggee plate of spaghetti
- I would knit with him
- Aquarium decoration
- Being wrapped around by a snake
- Posing in a tux
- I would have a dance party with him
- Going on a rollercoaster
- In an old fashioned portrait sitting on someone's shoulder
- Attach it to the dash of my truck
- Playing catcher at a baseball game
- Playing an iPod touch (any game)
- I would bring him to work to brighten up my days
- On the bench at a hockey game
- Handles for a foosball table
- Crowd surfing at a rock concert
- Dog Toy
- Car antenna topper
- Target Practice
- Use him as a bath toy
- Key chain
- Put him on the top of an umbrella
- Pencil topper
- Include in one of my videos and in doing so I'd be giving a shout out to Peterpot
- He would look good on my desk at work
- Gym buddy
- Going on a date with
- Being your friend
- You can love it ♥
- A decorative addition to my room
- As a rival
- Stunt double
- I would take him to fish creek and take pictures with him in the fall
- A co-worker
- Play ps3 with Eazy-G knockin heads in the COD (Call of Duty) world
- They'd look great in a bucket of Corona
- Cover for the hole on a pop can so that bugs don't get in
- A topper for a Christmas tree
- Hand exercise ball
- Decoration
- HAVE FUN!